Hazardous Packaging
All dangerous goods must be packed according to the applicable packing instructions. These packing instructions require UN approved packaging.
Hazpak supplies and offers UN approved combination & single packaging solutions.
UN Approved 4GV Fibreboard Boxes
The UN approved fiberboard boxes are of the highest quality and are tested to a Packing Group I Standard. This means that hazardous materials with a high degree of danger may be packed into these fiberboard boxes. 
Boxes are tested and approved as 4GV "special packaging". UN 4GV packages is certified so that a variety of non-tested inner packaging may be used. These boxes have passed some of the most stringent testing requirements. All boxes are double walled and are stapled not glued for extra strength.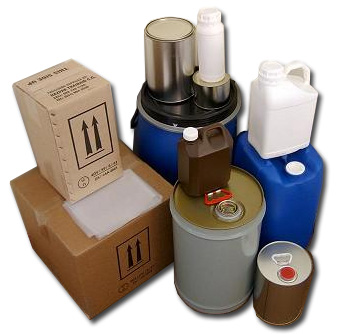 UN Approved Plastic Jerricans
All of our plastic 25 litre Jerricans are fluorinated. Fluorination prevents the container paneling and distorting and reduces chemical permeation, weight loss, odor emission and flavor or fragrance loss. The process exposes the surfaces of plastics and other materials to elemental fluorine under strictly controlled conditions of time, temperature, and pressure. Hydrogen atoms on the exposed surfaces are replaced with fluorine atoms, creating a permanent fluorocarbon barrier on all exposed surfaces. Some common benefits of fluorination are:
Reduces solvent and chemical permeation by up to 1000 times.

Replace glass, metal, or more costly plastic resin containers with a safe, cost effective alternative.
Our fluorinated plastic 25 litre Jerricans currently have the following dimensions:
280(L) x 280(W) x 460(H)mm
All dangerous goods must be packed according to the applicable packing instructions. Repackaging of dangerous chemicals for transport.